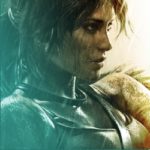 The jury (cybie, Soul, Nadine) has selected the winners from the many great contributions of the screenshot contest. Many thanks to everyone who participated in this contest! Here are the winners and runners-up from each category.
Best screenshot: Lara Reborn
Which was that one moment, in your opinion, that shows Lara's rebirth in the new Tomb Raider game? When did Lara become the heroine, that you learned to know and love? This is what the winners of the competition thought about Lara's development:
1st place: Jukka S.
Jukka: "Just moments before this screenshot Lara attacked one of the cultists to save her friend. She knew odds were against her and she probably would've gotten beating. While the screenshot doesnt show lara strong here – its the thing that she is willing to save her friend even if the odds or logic is against her. Also we all know what she did to those two later on.."
Soul: "Showing Lara in such a situation seems unusual for the category 'Lara Reborn', but definately not unfitting. This moment certainly touches every player and contributes greatly to Lara's character development!"
2nd and 3rd place: Blindinglight and Matie
Blindinglight: "It was difficult to choose a screenshot, because Lara's development shows more in what she says than what she does. That's why I chose the one screenshot, that made it particularly clear: she's serious. Lara's quote from that moment in the game: 'Yes, run you bastards, I will get you!"
Matie: "For me there was not really one particular point where Lara became the heroine we all love. Instead there were different moments where she got closer and closer to that. The first thing that came to my mind was the Pit, where Lara emerges from the pool of blood. She didn't freak out as I would have, she remained absolutely calm and was able to get out of the situation perfectly. But even after this one there was a significant point which I thought was maybe better in this regard. There was a huge buildup until the end of the game, long sequences you have to go and fight your way through. It got me glued to the screen, Lara was determined, nothing could stop her, not the lightning, not the strong wind, not the soldiers, she was unstoppable. When finally the huge Oni came my face expression transformed to the same scared/surprised look that Lara had at that moment. From that point I totally felt connected to her character, she was struggling with the fight, yet she was still tough and smart – and in the end, even that big creature couldn't stop her. :)"
Nadine (about the left picture): "A great moment for Lara, that I very much enjoyed myself as well. Finally, Lara takes charge and turns from hunted into the hunter, gaining respect and fear from the other island inhabitants."
Soul (about the right picture): "After defeating all the Solarii and the stormguards, the Oni is a challenge on a new level for Lara. This is shown in the traces of destruction seens in the background and Lara's crouched position. A less obvious moment for the rebirth of a heroine, but Matie's comment changed my mind."
---
Best Screenshot: Have a sense of humour
Every game has its glitches and sometimes Lara gets into the most weird and unintentionally humourous situations. Here are the funniest moments from our participants:
1st place: Roli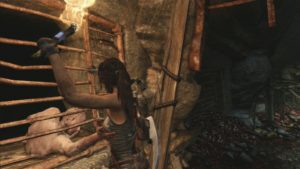 cybie: "I think this is by far the funniest picture, it leaves me absolutely speechless."
Soul: "I immediately laughed out loud seeing this picture – perfectly captured moment and clear winner in my opinion!"
2nd and 3rd place: Jukka S. and Pedro A.
Jukka: "Lara is not exactly happy about the company she is having. her face specially tells that.."
Pedro: "'Gorl, I'm flawless' – Here's my entry for the 'Have a sense of humour' category. It's not edited, the fire was there even before Lara uses the fire thing (sorry, I don't know what's the name). The black Lara is a bug from the game. Hope you guys like it, I laughed so hard when this happened XD "
Nadine (zum linken Bild): "I love Lara's attitude in this picture. Despite the completely miserable and unfortunate situation in the picture, Lara seems to maintain some form of sass towards her dead companion. Based on Lara's look, I like to imagine what sassy comment she has in store about her situation and her company =)"
Soul (zum rechten Bild): "The 'burned-up' Lara freezing in front of the already lit fireplace. Multiple bugs in a single picture, that in some weird way actually fit and make me laugh."
---
Thanks to all participants!